Words and Music
Now in its fifth year, our Words and Music series matches world class scholarship together with inspired music - combining head and heart into one event. Programs are free and open to the public.
Next Program: Sunday, May 17 at 3:00 PM on the KAMII Live Stream
Radical Love: Women Writing in Yiddish About Modern Romance
Jessica Kirzane is the Lecturer in Yiddish at the University of Chicago, the translator of "Diary of a Lonely Girl, or the The Battle against Free Love" by Miriam Karpilove (coming out in November, 2019), and the editor-in-chief of In Geveb: A Journal of Yiddish Studies. We'll hear poetry and prose from the otherwise silenced voices of women who wrote in Yiddish matched with Yiddish songs of love and longing.
---
Examples of Past Programs
Progressives and Israel Today: Criticism and Loyalty
In honor of the 10th yahrzeit of Rabbi Arnold Jacob Wolf
Sunday, December 2
2:00 PM | Reception
3:00 PM | Lecture and Concert
Featuring Dr. Samuel Fleischacker, Distinguished Professor of Philosophy at University of Illinois at Chicago, Cantor David Berger (tenor), and Julia Schade Armstrong (piano).
. . . . . . . . . . . . . . . . . . . . . . . . . . . . . . . . . . . . . . . . . . . . . . . . . . . .
Silenced Voices: String Trios from the Holocaust
with the Black Oak Ensemble and Dr. Philip Bohlman
SUNDAY, april 7, 2019 at 3:00 PM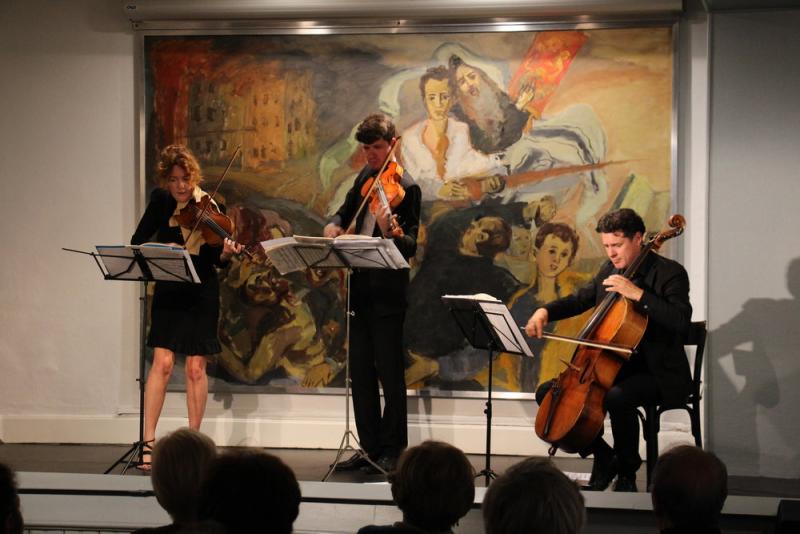 The Black Oak Ensemble is acclaimed for its eclectic programming and virtuoso performances. Featuring GRAMMY nominated violinist Desirée Ruhstrat, violist Aurelien Pederzoli and cellist David Cunliffe, the ensemble presents exciting programs from Bach to the music of today, and passionately pursues undiscovered and new works.
Dr. Philip Bohlman's teaching and research explores the interstices between music and religion, music, race, and colonial encounter, and music and nationalism. His studies and performances have focused on Jewish music in modernity for more than four decades.
Mon, September 27 2021
21 Tishrei 5782
Z'manim
Alot Hashachar
5:20am
Earliest Tallit
5:52am
Netz (Sunrise)
6:43am
Latest Shema
9:41am
Zman Tefillah
10:42am
Chatzot (Midday)
12:41pm
Mincha Gedola
1:11pm
Mincha Ketana
4:10pm
Plag HaMincha
5:25pm
Candle Lighting
6:21pm
Shkiah (Sunset)
6:39pm
Tzeit Hakochavim
7:21pm
More >>
Mon, September 27 2021 21 Tishrei 5782